A dream board, visualization board, goal board, or vision board – whatever you call it, it's always your very own little corner that stores things you want to change and focus on in your life.
Having dreams is a wonderful thing, but they make sense only if you're willing to give them more space and transfer them from your mind to real life.
Creating a vision board is one of the best ways to do it – so let's check what tools you can use to help you make the most of it!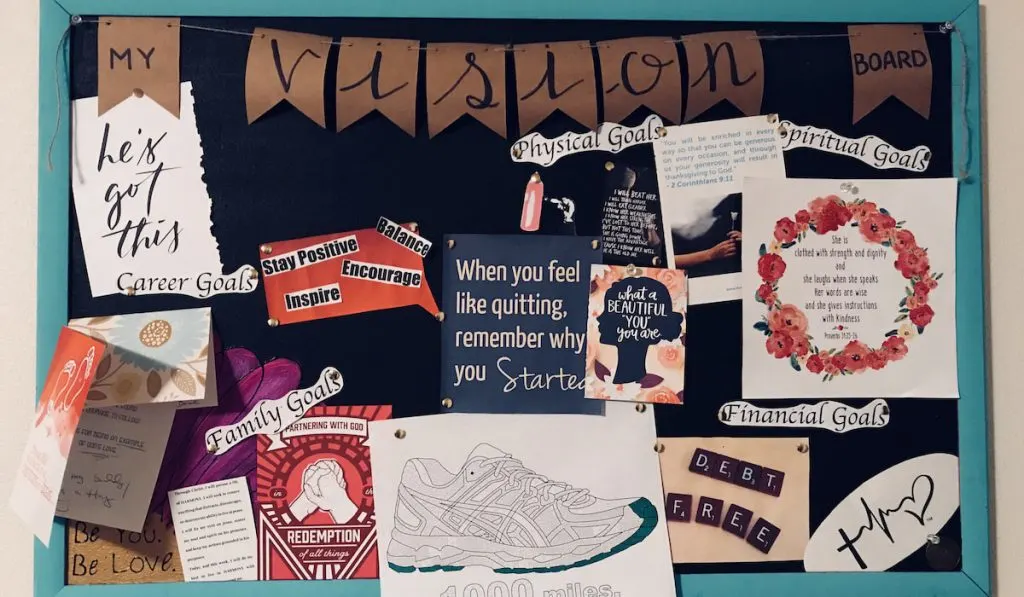 What Exactly Is a Vision Board?
In simple terms, a vision board is a mosaic of your goals and some kind of visual representation of things you've been dreaming about.
These boards are usually poster-sized and contain all kinds of texts or images that symbolize things you want to achieve in your life. Sounds fun, doesn't it?
What Is The Purpose Of Having It?
Everyday life can often be quite time-consuming so it's really easy to fall into a routine where you constantly push your dreams aside and often even forget about them.
Maybe there are things you have wanted ever since you were a child, but every time one of these comes to your mind, you pretty soon find excuses on why you couldn't deal with it at that moment or simply postpone thinking about all that for some "better" times.
Well, no better time to consider what you really want than NOW. Life is really short and, if you constantly leave good things for later, one day you won't have enough time or possibilities to go for something you actually long for.
Vision board is an excellent reminder of various things you've always desired. It's also a great opportunity for you to finally find a peaceful moment, take time for yourself, think about your life, and see if you're at the place where you wanted to be.
No job is perfect, but are you happy with the one you have? Do you have some hobbies or talents you kinda ditched through time?
Are you happy with your body and overall health? Do you have some traveling goals or countries you've always wanted to visit?
Maybe there are even some old friends you haven't heard from for a long time, but you'd want to grab a cup of coffee with them.
No matter what your hidden desires are, a vision board is a great way to put your dreams together and remind yourself of how important they are to you.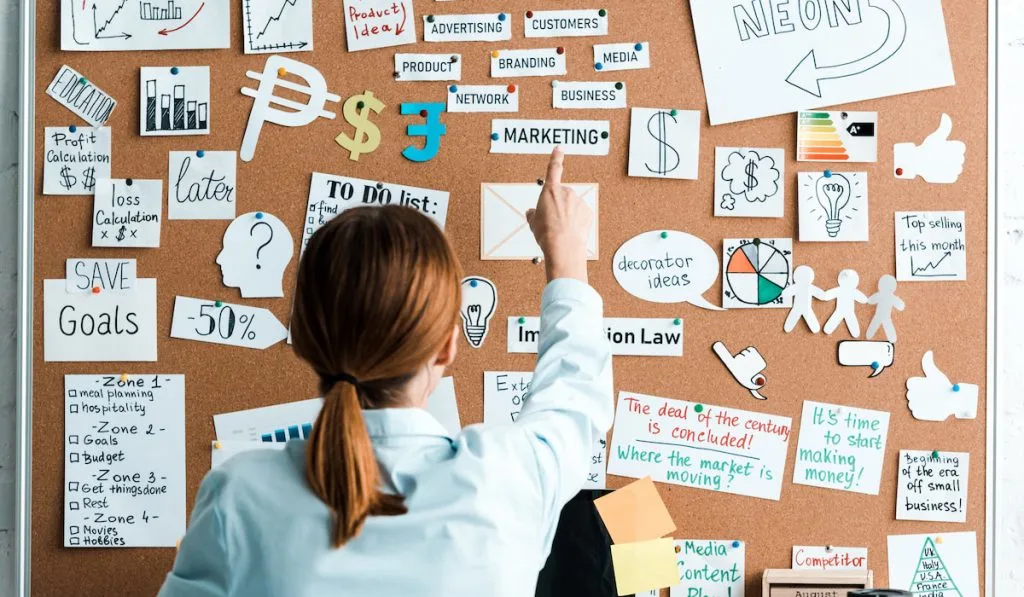 How Do You Use It?
If you have more areas you'd like to cover, why not making a couple of vision boards?
The number is not limited, so you can use your creativity well and put together more of those dreamy places that will always be there to remind you of your goals.
However, keep in mind having too many of them can decrease your focus, so you might want to learn how to prioritize things you want to achieve and focus on the most important ones.
That doesn't mean you'll necessarily have to cut the rest of your wishes – they'll simply wait for their turn and come on your board when your primary goals are accomplished.
There are no strict rules when we talk about vision boards. All the work there is basically about crafting something that may inspire you and keep you motivated to go after things you really want.
Sometimes, vision boards are related to just one idea, while others focus on the bigger picture of what you imagine your future might look like.
You don't have to be into crafting or have many art supplies, photos, and other interesting things people usually add to their vision board.
Just a little bit of imagination, time for yourself, and prioritizing things you've always longed for – and your vision board can be an excellent inspiration as well as that magical push you needed all this time!
Can a Vision Board Be Digital?
Boarding is such a powerful and effective visualization tool that can truly help you capture both the essence and the specifics of your goals. Having your dreams "at hand reach" all the time encourages you to finally turn them into a reality.
However, in today's times, we spend more and more hours in a digital world, whether we're working, scrolling through social media feeds, or simply searching for things that interest us.
Why not making a vision board you'll be able to see every time you're on your laptop or mobile phone? Let's discuss the best and simplest ways to make your digital vision board then!
9 Platforms That Will Help You Make a Vision Board Online
Canva
Canva is definitely one of the simplest and most popular tools when it comes to creating a wide variety of visuals, including vision boards.
Both app and desktop versions are really easy to navigate and can result in such a beautiful new board of yours.
Still, you may prefer to do it on your computer since you have more control and all the content you'd like to add is bigger and has better visibility.
Pinterest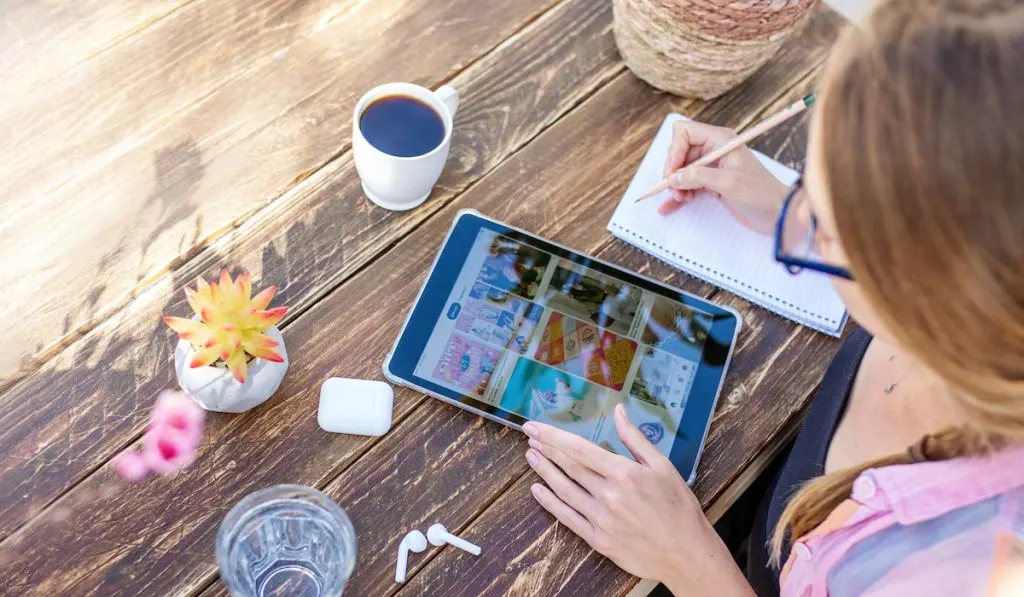 You can make a board that stands for different sections of your life such as a personal sphere, health, business, family or social life, core values you want to follow in your life, etc. Pinterest is another excellent tool that can help you achieve that!
We're talking about a platform that's quite visual and rather easy to use. Over there you can "pin" different items you find on other websites (or even ones from Pinterest itself) to your own personalized boards.
One of the ways to make the most out of carelessly scrolling or pinning on Pinterest is definitely creating a vision board filled with your very own dreams and goals.
PicMonkey
PicMonkey provides you with everything you need to create elegant and quite charming online vision boards. They have specific templates designed for making a board that will be a perfect representation of your dreams.
There's a possibility of adding and editing custom photos as well as adjusting your template's theme via a wide variety of their filters and effects.
The app has cloud storage so you can check your board while using any of your devices. Perhaps you can print the board too? That way you can place it in a prominent spot where you'll see it when you get off your devices too.
MindMovies
MindMovies is an app that allows you to create video type of vision boards with eye-catching images, affirmations, and some nice, inspiring music.
You must admit, video features can certainly help to create an excellent, and quite motivating visual that'll encourage you to go for your dreams even more.
Maybe a video format is not a classical kind of vision board, but having something like that too might actually be worth of try, don't you think?
DreamItAlive
This platform comes as a perfect place to get more clear about your goals as well as visualize them in your very own, creative way. DreamItAlive is a great tool that brings a database of rather inspiring photos as well as wise quotes that can enrich your vision board.
On this particular platform, you first choose a category. Each one represents a specific aspect of life. For instance, you have: mind and soul, career and life path, or health and wellness.
After selecting your category, you'll find a question where you'll have to rate the level of satisfaction you have for that particular aspect of your life.
The question is there to help you decide what exactly you want and how you can set some specific goals you'll later go for. Further steps include choosing inspiring texts and the images you resonate with the most.
Visuapp
The advantage of digital vision boards is you can carry them with you and get the needed dose of inspiration to focus on your goals whenever you want. Visuapp is another great tool you can use to let your imagination go wild.
This platform also offers various categories such as family, health, wealth (money), creativity, fame, career & travel.
In addition to that, the app allows you to share your vision board with your loved ones. Still, all boards you make on the platform are private by default.
Sites With Free Images
Unsplash, Pexels, and Pixabay are excellent websites that offer free images and can really be a valuable source of inspiration you may need when starting.
Even though we know what we want, sometimes it's a bit hard to visualize those things. You may not have ideas of how to express yourself on your dream board, especially if you're doing it for the first time.
With that in mind, you can always visit some of these sites, write down keywords related to your dreams and enjoy the beautiful palette of photos you'll find over there.
For instance, if you want to make a career-related vision board, search for short and simple terms such as work from home, entrepreneur, mom boss, working mom, computer job, home office, reading, learning, etc.
Some Final Words
A visualization is a powerful tool that can really help you stay focused on your goals. Of course, it's just an additional tool you can add to your path. Having a board and visualizing things is not enough to make your dreams come true.
However, the vision board helps you "keep an eye" on your dreams and doesn't allow you to put them aside as you've perhaps done over the past years.
Along with that, you'll think more of things you really want to achieve, which will encourage you to take actions and finally hit the road towards making them come true. So, it's time to set on a new journey then, don't you think?
Resources: