Most of us tend to believe that happiness goes together with achieving our goals.
"I'll be way more satisfied after I get a promotion and more money," or "I'll be happy when I meet the right person and get married." Does that sound familiar?
Of course, there's nothing wrong with having goals, desires, and things we aim for. Still, you may notice that even after you achieve your goals, they only bring temporary satisfaction.
Take a closer look at how you feel after that rush is gone. The true state of your mind reveals itself after the hype is gone.
Are you already looking for new goals and things that would make you happy?
Do you believe that wasn't enough, so you need to achieve more to feel truly good about yourself and your life? Or are there some other things that make people genuinely content?
Let's delve deeper into this.
What Is The Meaning of "Be Content With What You Have"?
True contentment is a state of mind or deep-seated sense of accepting what we have and who and where we are at any given moment.
Human nature is restless, which means it's hard for us to enjoy the same situation or thing for a longer period of time.
Human beings need something that breaks their everyday routine now and then to feel refreshed and excited about things. However, just because such things make us feel excited and joyful doesn't mean they make us feel fully content.
This is why having a lot of money won't make you content—the excitement we feel after buying something we want subsides after a short time, and then we're back to where we started.
Contentment is being deeply satisfied with things just the way they are.
How to Be Content With What You Have
The majority of people relate accomplishing certain goals with feeling content because of the rush they feel when they go after something.
That's why too often, so many of us get entrenched in our busy lives chasing money and goals that we don't even see where we are at this particular moment.
Even when we finally take a break and sit down, we focus more on where we want to be or where we were instead of letting ourselves be present right now.
Before we can be truly content with where and who we are, we must first be aware of our present situation.
How do we do that?
An Exercise to Help You Feel Present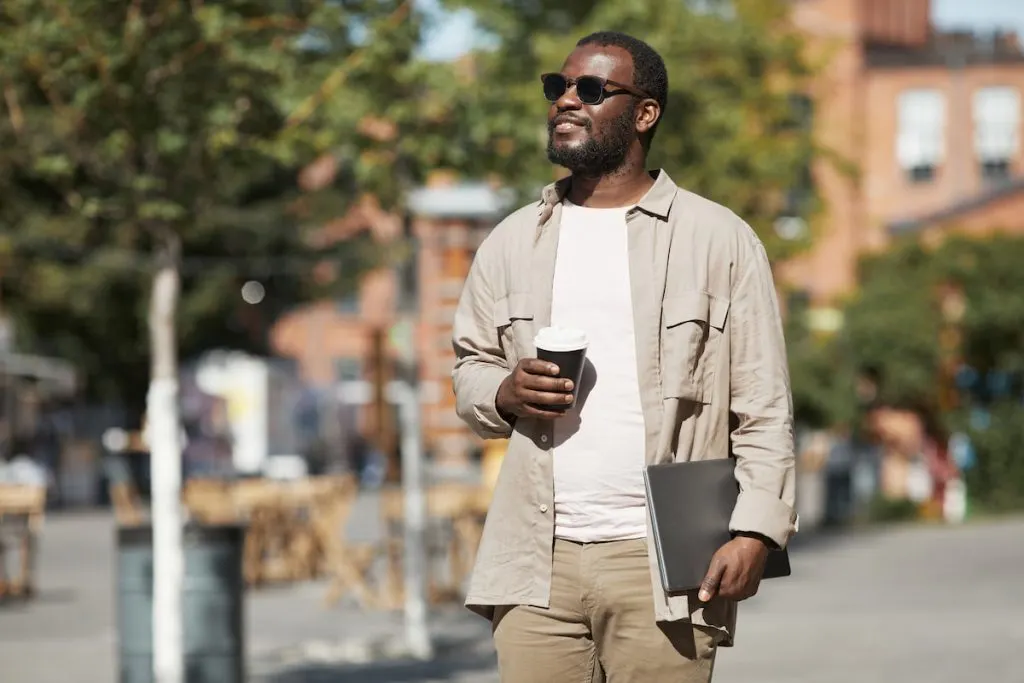 Here's a quick exercise that might help you establish a sense of being present in this particular moment.
Take a look at what surrounds you at this very moment. What do you see?
Try to describe your space, but don't make any judgments about it.
For instance, instead of saying the room looks dreary or cheerful (which are words of judgment), just observe the color of it, together with the position and style of the furniture.
What's the texture and color of the carpet on the floor? There are so many details you can pay attention to.
Maybe your working desk is facing a window, the walls are white with stains on certain spots, and the fabric on the chair could be slightly worn.
By becoming aware of our surroundings and noticing things without judging, we help ourselves stop thinking about past or future events.
None of these determine the true value of your life. The point is to be aware of the things you have at this particular moment.
You Feel Present. Now What?
When you're focused on reminiscing about things from the past or imagining your future, you can't become fully aware of the life you have right now.
Think about it.
What are the people you're surrounded with like?
Who do you spend most of your time with?
What value do you provide for those people? What value do they offer you?
Do you let them know you appreciate them?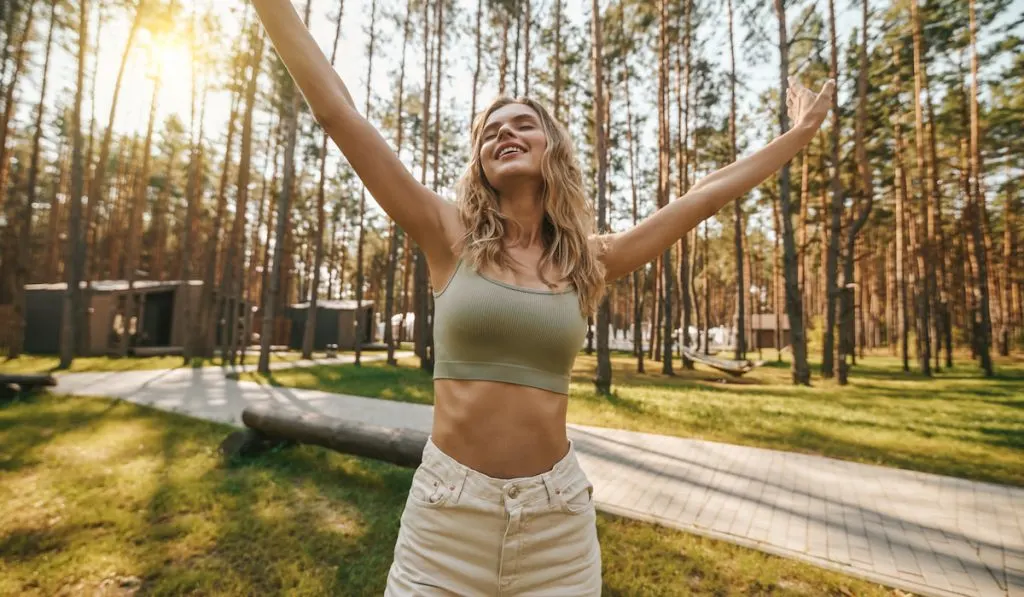 Do you find purpose in your existence and how you spend your time on this planet? Don't punish yourself if you don't.
Being content isn't a measurable goal; we don't head toward it like when we want to get a promotion at work or buy a new car.
Contentment is a state of being that you practice, and the first step is being more aware of the present moment.
Only at that point do you create space where you can also discover the true purpose of your life.
Some believe they can only be happy if they win a lottery, buy a great house, or get into a relationship. And some even manage to do it — just to realize it only seemed like that was going to give a purpose to their lives.
What Is the Difference Between Being Content and Being Happy?
Contentment and happiness sound pretty much the same at first.
It's not a problem when we equate them in casual everyday conversations, but if we want to live intentional and meaningful lives, we must address the differences between them.
Happiness is a state where a person is satisfied. They experience enjoyment or pleasure and often an absence of pain.
Contentment is a state of satisfaction where a person can transcend the allure of basic desires and needs.
This means it's possible to feel content without being happy.
For instance, you can have a job you're not that happy with, but you still find a purpose in having it.
Maybe it's close to your dream job, or even if you don't like it, you still know you earn money to support your family, fund a charity, or do something else that helps others around you.
This doesn't mean you shouldn't aim for a job you believe would suit you the best or have goals. It simply means you can find purpose in everything you're doing in life, no matter what they are.
Also, the deep satisfaction with your life won't depend on achieving those goals. You'll be able to feel grateful for your life whether you're going through good, bad, or more or less successful periods of your life.
In other words, even if you're not happy at specific periods of life, it doesn't mean you're doing something wrong.
We are layered beings who go through different stages in our lives.
It would be tricky to fully rely on times when we feel happy because when we don't feel happy, we might think there's something wrong.
A Little Bit More About Contentment
Here are a few simple yet beautiful quotes and Scriptures that can always remind you what being content is all about.
Quotes
"To be content doesn't mean you don't desire more[;] it means you're thankful for what you have and patient for what's to come." Tony Gaskins
"Happiness will never come to those who fail to appreciate what they already have." Bilal Zahoor
"Contentment comes from many great and small acceptances in life." Anonymous
"A contented heart is a calm sea in the midst of all storms." Anonymous
"Now and then, it's good to pause in our pursuit of happiness and just be happy." Anonymous
Scriptures
"And He has said to me, 'My grace is sufficient for you, for power is perfected in weakness.'… Therefore, I am well content with weaknesses, with insults, with distresses, with persecutions, with difficulties, for Christ's sake; for when I am weak, then I am strong." (2 Corinthians 12:9-10)
"Keep your life free from love of money, and be content with what you have, for he has said, 'I will never leave you nor forsake you.'" (Hebrews 13:5)
"Then he said to them, 'Go your way. Eat the fat and drink sweet wine and send portions to anyone who has nothing ready, for this day is holy to our Lord. And do not be grieved, for the joy of the LORD is your strength.'" (Nehemiah 8:10)
Resources: