Getting fit isn't easy, if it was everybody would be doing it. Each year, especially around New Year, people all over the globe have a renewed sense of energy when it comes to getting into shape for the New Year. For me, the best way to stay motivated is to track everything. So, of course, I went looking for the best fitness planner for 2021.
There are some great options out there! So many cute designs for those who like a little color and some classic, elegant ones for those who don't. Of course, there are a lot of things you should consider before choosing a fitness planner for 2021. Here are a few of the top things I think about:
Binding – I personally like a spiral bound fitness planner. Even though I'm not at the gym lately, I am still in my living room or at my home gym and I really prefer being able to have just the one page showing. Decide if you are OK with a traditional book binding or if you want something with more flexibility.
Cover – Speaking of flexibility, do you want a fitness planner with a hard cover or a soft cover?
Layout – One of the most important aspects of any planner is page layout. The big thing here is, does it track what you need it to. For example, I'm not so worried about having a mood tracker in my fitness planner but, I want to track daily steps as well as meals.
Paper Quality – Finally, paper quality. As a self-proclaimed stationery nerd, this is pretty important to me but it isn't a critical component for everyone. If this is something you tend to worry about, be sure to pay attention to that when making your selection.
That all being said, here are 13 amazing fitness planners for 2021.
1. Cossac Fitness Journal & Workout Planner
This fitness journal is elegantly simple. It is spiral bound and comes in a variety of different cover colors, of which black is definitely my favorite.
Some of the things I love about this fitness journal is that while, of course, it has pages to track individual workouts, I also love the goal setting areas and the progress tracking for each exercise. While the samples show tracking how much weight you can lift for each exercise, I personally would be more interested in tracking how my 5k time improves over the next 20 weeks.
Sale
2. Happy Planner Fitness Planner
I have always been a fan of Happy Planner. In fact, I have several in all different sizes. The disc-bound planners, in general, are awesome for me because they are so flexible. I can add or remove pages to my hearts content.
Another thing to note that you don't have to be a creatively inclined person to use Happy Planners. Sure, there are whole communities built around making the Happy Planner pages beautiful.
I'll admit that I, too, love decorating pages when I have time. Even without decoration, though, these fitness journal pages are extremely functional. You have space to track food, exercise, and even your general to-do list for the day if you like.
Here is an Amazon link but you can also get these at stores like Michaels and Jo-Ann's.
Fitness Journal for Women & Men – A5 Workout Journal/Planner to Track Weight Loss, GYM, Bodybuilding Progress – Daily Health & Wellness Tracker
FITNESS JOURNAL OVERVIEW – Workout journal contains quick reference information page, goals&plans, progress tracker, calendar, results, routine workouts, my exercises, exercise tracking pages and note pages for note-taking, lists, goals etc, which help you manage your workout log efficiently and achieve your goals perfectly
136 DAYS OF TRACKING – Track your exercise and workouts with 136 pages that provide enough space to record your goals, exercises, weight loss, etc. Suitable for 4.5-6 months workout log tracking
3. Workout/Fitness/Nutrition Journal
There is certainly a lot of tracking packed into this fitness journal. If you love data this may just be the journal for you.
The well-laid out tracking pages allow you to record all of the basics. In fact, the only thing I thought was notably absent was a hydration or water tracker. But, aside from that you have everything else covered including meals, workouts, overall feelings, workout duration, nutrition goals, etc.
Sale
NewMe Fitness Journal for Women & Men, Food & Workout Journal, Planner Log Book to Track Weight Loss
Goal-Focused Health Journal: Track your daily workouts for 2+ months by keeping close tabs on health and wellness with our fitness and nutrition combo journal, created by nutrition professionals and military fitness experts
How to Use: Our comprehensive fitness journal includes guidelines that show you what exercises target what muscle groups, how to measure your body fat, and how to record your maximum lifts.
4. 12-Week Fitness Journal
I kind of love that this exercise tracking journal is only meant to track 12 weeks. I mean, if things go amazing, 12 weeks from now I may want to be tracking different goals in a different way.
I also love that this journal has space for both food and exercise. In addition, the planning pages I think are awesome. Each week you can go in and decide what you want your meal plan and fitness plan to be for the week.
Having things planned out, at least for me, makes it much easier for me to just get up and do the work I promised myself I would do. The only drawback, for me personally, is that this isn't spiral bound. Otherwise this would be my go-to planner.
Sale
5. Fit or Write – Fitness Journal with App
This journal has a few neat additions that help it stand out from the rest. Namely that it also comes with a mobile app to help you chart your progress as well as a couple of E books written by professional trainers.
Some reviewers commented that the thickness of the book makes it hard to turn pages but, this book has a quality few of the other fitness planners do. You can actually remove pages.
So whether you want to remove a single page and take it with you to the gym or, if you want to remove a group of pages from the back to make it thinner, the choice is yours.
The only thing I'm not sure about is why they called it "Fit or Write". The only writing involved is writing down your exercises. The good news is, if you are just a bit crafty you can easily customize the cover if you desire.
FIT OR WRITE – The Fitness Journal & 6-Month Workout Planner WITH A Mobile App!
✔ 6-MONTH FITNESS JOURNAL AND 2020 wellness PLANNER Keep track of your health goals. This fitness weightloss journal and planner keeps track of your diet and exercise progress..

✔ CONVENIENT DESIGN A complete exercise and diet journal with sections to track cardio training, meals and snacks, grocery list, body size, supplements, daily journaling, and sleep with your diet tracker.

✔ PORTABLE Removable pages and plastic covers so you can take important pages with you to the gym or grocery store.
6. Fitlosophy Fitbook Light – 6-Week Weight Loss Journal
This fitness & weight loss journal has so many of the great features I was looking for that I would have rated it #1 if not for a few things.
It wasn't in stock.
It isn't available via Amazon prime.
It only tracks six weeks
I love everything else about it. Each day is laid out on a two page spread. It's undated so you aren't wasting pages for rest days.
This planner has it all, food log, nutrient tracker, hydration tracker, step tracker, and even a place to track small daily goals. They do have a 12-week fitness journal but I don't like the format of that one as much.
Fitlosophy Fitbook Lite 6-Week Weight-Loss Journal 5.5 inches
4 easy-to-follow, research-backed tweaks with step-by-step coaching by our chief fitlosopher
Daily food log to dial in on mindful eating +simple workout format to integrate with digital trackers
6-week planning and reward system to set goals for success with checklists, tips and challenges to keep you motivated
Daily check-ins and weekly weigh-ins to keep you focused without getting obsessed
7. ProFit Triathlon and Running Training Diary
Running in a Triathlon has been a long time goal of mine. As such, I'm more drawn to fitness logs that allow you to track more cardio than weights. That is where the this fitness journal excels.
Each workout is tracked on a single page. There is room for training notes, nutrition, route taken, tracking energy level, weather and more.
If you want to log your weight routine for the day in here you can do it, it just isn't laid out specifically for that as other trackers are.
ProFit Triathlon and Running Training Diary – Triathlete's Training Journal
🥇GREAT VALUE. This multi-sport journal has the basics for the athlete who's priorities are run, swim, and cycling. Each journal made for 16-week training period. It helps you plan, track results and make tasks for the season to stay organized and achieve your goals.
🏊🏻EXCELLENT ORGANIZED. Daily workout page help you track exercises: distances, time, speed (avg. and max). In addition, you can record training schedules, weather conditions, weight, heart rates, nutrition, water, sports nutrition, calories, energy level and more. Easy to start at any time of the year.
8. Erin Condren Wellness Planner
Erin Condren is definitely one of the giants in the planner community so it comes as no surprise that they have an amazing wellness log.
This pocket sized fitness journal is perfect for those of you who want to write it down but don't necessarily need or want to track all of the nitty gritty.
Each weeks activity is logged on a two page spread with sections for activity and habits on one side and your meal log on the opposite side.
This is a great little notebook for learning how to be consistent about writing things down on your fitness journey without having to worry about remembering all the little details about your workouts.
Erin Condren Designer Petite Planner – Wellness Log/Wellness Planner Achieve Health goals
INCREASE WELLNESS: This Wellness Log Petite Planner helps you set and achieve health goals, track fitness, sleep, nutrition, water intake and more!
PURSE-SIZED PLANNER: This planner measures 5.7″ x 8.25″. It is the perfect size to make it easy to stick to your health goals on the go, anytime, anywhere.
TRACK HEALTHY HABITS: Track your health habits in style with six months of stylish wellness planning for your workouts, steps & even food journaling!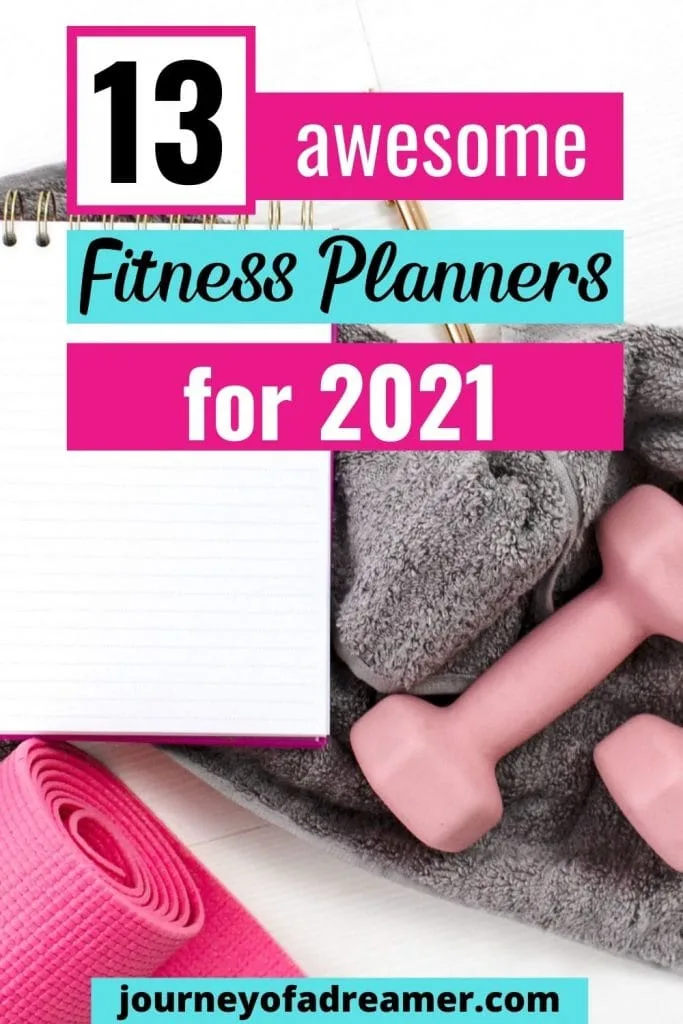 9. Hello New Me – Daily Food & Exercise Journal
I really like the overall idea of this planner. I think if you are just getting started with tracking, this 90 day meal and activity traffic is probably just what you need.
Instead of having detailed spaces for which weights you did, how many reps, that kind of thing, each page is laid out to have just the basics.
You can quickly and easily track breakfast, lunch, dinner, snacks, water intake, mood, and exercise. One positive thing to note is that each section is more free form.
So, if you don't want to track calories, don't. Because each tracking section is just lined, with few pre-determined fields, you can be free to be you.
10. Your Fitness Journal
If you want to track calories, weight training exercises and one cardio workout per day, this might be the right fitness journal for you.
This fitness planner has a nicely laid out page that includes a section for exercises at the top. Down on the bottom there is one space to log your cardio workout of the day and one space to log your calories and basic stats for each meal of the day.
The downside is that if you do more than one cardio workout per day, or want to track what you actually ate, you won't be able to do that in this fitness planner.
Portage Fitness & Workout Notebook – Fitness Journal
TRACK YOUR PROGRESS – The only way to get real results is continuous improvement. By recording your bodybuilding, cross-fit and exercise workouts in your fitness journal, you can easily track progress and make huge gains
LASTS LONGER THAN THE COMPETITION – Your fitness log book has more days of fitness tracking than our competitors at a lower price. We are the best exercise and food journal that money can buy
INCLUDES BODY MEASUREMENT TAPE – The only true way to measure you progress is to track your body measurements periodically. Your fitness journal includes a 60″ body tape and an instructional guide to help you take measurements
11. Spiral Bound Workout Log Book w/Tape Measure
RBD Health really thought of the consumer here when they made this product. It is a great workout tracker on it's own but then they added a tape measure, pen and even index tabs.
In addition to the tracking pages, they have also added in great resources like exercise ideas. I love the cover too! So inspirational! The only downside to this fitness tracker is that it doesn't have any space to log food.
12. Legend Fitness Journal
This spiral bound fitness journal is awesome if you are looking for JUST workout tracking. There isn't room here to track nutrition or meals but, the workout tracking pages are laid out very nicely.
In fact, one of the things I love is that it has more than just a couple lines for Cardio. That means that I don't have to worry about running out of room if I were to run and bike in the same day, for example.
Oh, and the colors are pretty awesome too.
13. Clever Fox Food Journal
OK, so this one isn't a fitness journal at all. This is just a food journal but, maybe that is what you have been looking for. No pressure to track exercises (or even to exercise at all).
Maybe you are at the point in your journey where you need to start with one small change. Maybe for you, that change is just tracking your food and getting better about counting calories and eating healthy.
If that sounds right, this food journal may be exactly what you are looking for. I love that it comes in a TON of colors. It even has space for you to track your measurements over time.
Clever Fox Food Journal – Daily Food Diary, Meal Planner to Track Calorie and Nutrient Intake, Stick to a Healthy Diet & Achieve Weight Loss Goals
EAT HEALTHIER & ACHIEVE YOUR DIET GOALS FASTER – This food journal will help you get started with a healthy diet, achieve your weight loss goals and get your poor eating habits under control – for good. Set your diet goals, plan your meals upfront, track your calorie and nutrient intake on a daily basis, eat healthy, feel great, have more energy, improve your health and boost your mood! This is what this diet planner is all about.
LOSE WEIGHT, FEEL GREAT & HAVE MORE ENERGY – Whether your goal is to lose weight, gain muscle or just get started on a healthy diet to improve your health – this planner will help you! Developed by fitness and nutrition experts, this diet planner uses goal setting and positive psychology techniques to help you not only get started with a diet, but also to keep you accountable and make sure you STICK to your diet while staying motivated along the way!